Nuovo appuntamento con "Peter's Pills", la rubrica online di Legal English by Federnotizie (la rivista online di Federnotai), in collaborazione con Confprofessioni e Beprof. La 44esima video-lezione "Subject matter" è disponibile sul sito www.federnotizie.it, sui canali social e sul sito di Confprofessioni e sulla app Beprof, scaricabile da App Store e Google Play.
LESSON N. 44: CLICCA QUI PER IL VIDEO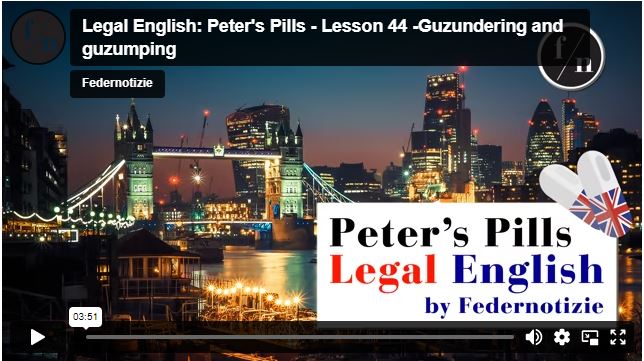 Hello! Today we we are in England to we meet John and Mary. John puts his home up for sale for £500,000. Mary visits the home, loves it and agrees to buy it for £500,000.
They shake hands and smile. Mary immediately calls her lawyer who does various property searches for her (£1,300). She also engages (ingaggia) a surveyor (geometra) who does a physical inspection of the property and writes a favourable report (£750), and a bank who agrees to give her a loan (booking fee: £150 and valuation fee: €500). Three weeks later John meets Henrietta. He tells her that he is selling his home to Mary for £500,000. Henrietta really wants to buy his home because it is next to her best friend Matilda and near to her aging mother.
She offers him £550,000 and John accepts. He calls Mary and tells her that he will no longer (non più) be selling his home to her because he has received a higher offer. If she still wants to buy his home, she should offer him more than what Henrietta has offered. Mary is mortified because she already spent a lot of money and the bank has told her that they cannot lend her a higher amount because her salary is not that great and because they believe the home is not worth (non vale) a higher value.
Mary has been gazumped. Gazumping is when a new buyer makes a higher offer for a house than someone else whose offer has already been accepted by the seller and thus succeeds in acquiring (riesce ad acquisire) the property. This very often happens because it is common practice not to enter into a pre-contract deposit agreement due to the extra costs involved and because one of the parties does not want to be pressured into this sort of arrangement. Until the closing date when written contracts are exchanged for the purchase of the property the agreement between the buyer and the seller is not legally binding (non legalmente vincolante) and either party can withdraw from the transaction. Any money spent is lost.
The opposite of gazumping is gazundering. Guzundering occurs (si verifica) when the buyer and the seller agree on a price, but when the day comes to exchange written contracts, the buyer suddenly tells the seller that she will buy, but for a much lower price and to "take it or leave it".
The seller has been guzundered. Very often the seller is relying on (relying on) the sale to purchase a new property and is therefore in a state of shock when this happens. If the seller does not accept the lower price he will lose his dream property that he wanted to buy and all the money he has spent on searches, surveys (perizie fatte dal geometra) and bank lending fees will also be lost.
Guzumping and guzundering and both considered unethical because the parties had an oral "gentleman's agreement" but they are sadly not illegal in England and Wales. A survey (sondaggio) conducted in April 2022 by Market Financial Solutions, found 31% of people in England and Wales who bought a property said they have been gazumped at least once since 2012. In London, this rose to 51%. Additionally, 47% admitted they would consider gazumping a rival buyer to get the property they wanted.
Guzumping and guzundering are, however, illegal in Scotland. Thank you very much and see you next time for more Peter's Pills to improve your Legal English!